2021 Budds Creek National – Pro Motocross Highlights
Immerso all'ombra della capitale della nazione di Washington D.C., il Budds Creek Motocross Park nel sud del Maryland è stato il luogo del nono round del campionato Lucas Oil Pro Motocross 2021, sanzionato da AMA Pro Racing. La copertura nuvolosa intermittente è stata completata da condizioni umide per il Circle K Budds Creek National, mentre una feroce battaglia per la vittoria si è svolta nella classe 450 e ha richiesto un tie-break per determinare un vincitore. Alla fine, Dylan Ferrandis di Monster Energy/Star/Yamaha Racing ha prevalso su Ken Roczen del Team Honda HRC per la quinta vittoria estiva del francese. Nella classe 250, Jeremy Martin di Monster Energy/Star/Yamaha Racing ha fatto affidamento su una vittoria enfatica nella manche finale per catturare la sua terza vittoria della stagione, leader della classe.
CIRCLE K BUDDS CREEK NATIONAL RESULTS
Ferrandis Prevails Over Roczen via Tiebreaker at Budds Creek for Fifth Lucas Oil Pro Motocross Championship Win
Martin Captures Class-Leading Third 250 Class Victory
Nestled in the shadow of the nation's capital of Washington D.C., Southern Maryland's Budds Creek Motocross Park served as the site of the ninth round of the 2021 Lucas Oil Pro Motocross Championship, sanctioned by AMA Pro Racing. Intermittent cloud cover was complemented by humid conditions for the Circle K Budds Creek National, as a fierce battle for victory unfolded in the 450 Class and required a tiebreaker to determine a winner. In the end, Monster Energy/Star/Yamaha Racing's Dylan Ferrandis prevailed over Team Honda HRC's Ken Roczen for the Frenchman's fifth win of the summer. In the 250 Class, Monster Energy/Star/Yamaha Racing's Jeremy Martin relied on an emphatic win in the final moto to capture his class-leading third victory of the season.
The first 450 Class moto got underway with Red Bull KTM Factory Racing's Cooper Webb at the head of the pack with the MotoSport.com Holeshot, with Monster Energy Kawasaki's Eli Tomac and Roczen in hot pursuit. Known as one of the best opening-lap riders in the world, Roczen put the hammer down immediately and made a quick pass on Tomac for second and then fought his way into the lead around Webb a short time later. By the completion of the first circuit, Roczen was already more than a second clear of the field.
As Roczen continued to inch away, Webb and Tomac battled it out for second, which allowed Team Honda HRC's Chase Sexton and Ferrandis, the championship leader, to join the mix. A determined Tomac saw several pass attempts thwarted by Webb, but he eventually made the move. However, a hard charge by Sexton saw the Honda rider get by both Webb and Tomac on the same lap to vault from fourth to second and put Honda 1-2 in the running order.
The Honda duo continued to put distance over the rest of the field as Tomac started to lose ground to Ferrandis in fourth. The Frenchman got into a rhythm and soon found himself within a few bike lengths of the Kawasaki, at which point he went on the attack and made an impressive pass to take control of third. Back out front, Sexton started to chip away at his deficit to Roczen and closed to within a few seconds of the lead, while Ferrandis continued to log the fastest laps on the track.
With less than five minutes remaining in the moto, the top three ran within five seconds of one another, with Ferrandis consistently the fastest of the trio. As the race clock ticked to under a minute remaining, Ferrandis closed in on Sexton for third and took advantage of a lapped rider to make the pass happen with relative ease. With two laps to go, four seconds separated the championship rivals. Ferrandis took huge chunks out of his deficit and closed to within striking distance on the final lap, and even had a shot at stealing the win as they navigated the final section, but Roczen held on to take the moto win by three tenths of a second. Sexton finished a distant third, with Tomac fourth and Webb fifth. The torrid pace by Roczen and Ferrandis saw them lap through 11th place.
The German picked up where he left off to start the second moto by racing to the MotoSport.com Holeshot over Webb, Ferrandis, and Sexton. With no one ahead of him Roczen put his head down and sprinted away on the opening lap to a lead of just under two seconds. Behind him, Sexton aided his teammate with a pass on Ferrandis, which dropped the Yamaha rider to fourth. Sexton wasn't done and he kept the charge going on Webb, easily moving into second to put the Honda riders once again at the head of the pack. Ferrandis responded as well and made the pass on Webb for third, while Tomac dropped Webb to fifth a short time later.
The top four riders on the track ran within a handful of seconds of one another 10 minutes into the moto and things only got tighter from there. As the race reached the halfway point the gap closed to just over two seconds. A bobble by Sexton allowed Ferrandis to move into second and put Sexton into the clutches of Tomac. The Kawasaki rider bided his time but eventually made his move to take over third.
Up front, Ferrandis had Roczen in his sights. They traded fast laps to keep the gap at about a second as they approached the final 10 minutes of the moto, while Tomac lurked in third. A battle for the lead ensued as Ferrandis looked for a way around. After several attempts Ferrandis made the pass happen and seized control of the moto with seven minutes to go. Once out front, the Frenchman gapped the German and appeared to have the moto in hand. Roczen was able to put in a late charge in the closing laps and got within a few bike lengths of Ferrandis, but the points leader responded, was more efficient navigating lapped traffic, and brought home the moto win by 4.8 seconds at the end.
With identical moto scores, Ferrandis (2-1) and Roczen (1-2) ended the day tied atop the overall classification. However, by virtue of his better result in the second moto Ferrandis earned the tiebreaker to earn his fifth win of the season. Tomac completed the overall podium in third (4-3).
"Last weekend I got beat so bad, so we made some changes this week and came back better (today)," said Ferrandis. "The bike was so good, I could do whatever I wanted. I was glad to get my pace back and in the second moto I was able to catch Kenny (Roczen) and battle for the win. It was fun, but it's always the most fun when you win."
With equal points for the afternoon, Ferrandis' lead over Roczen in the 450 Class standings remains at 39 points with three rounds remaining. Tomac remains third, 71 out of the lead.
The first gate drop of the 250 Class saw the 40-rider field funnel into the first turn, from which Monster Energy/Star/Yamaha Racing's Justin Cooper, the championship leader, emerged with the MotoSport.com Holeshot, followed by Rockstar Energy Husqvarna Factory Racing's Jalek Swoll and Monster Energy/Pro Circuit/Kawasaki's Austin Forkner. The clear track paid big dividends for Cooper as he was able to sprint out to an early lead while Swoll and Forkner duked it out for second. Cooper completed the opening lap with a three-second advantage, while Forkner made the pass and settled into second.
As Cooper and Forkner continued to lead the way, Rockstar Energy Husqvarna Factory Racing's RJ Hampshire was on a march forward. After starting fifth, Hampshire made a pass for fourth and then worked his way around teammate Swoll to take control of third. Hampshire then set his sights on Forkner. As he gave pursuit, Hampshire encountered misfortune and lost several positions, which moved Swoll back up to third, but under heavy pressure from Team Honda HRC's Jett Lawrence. The Australian rider was patient and made the pass for third.
With 10 minutes left in the moto the battle for second heated up between Forkner and Lawrence, who was the fastest rider on the track at this stage of the race. As they navigated through lapped traffic Lawrence benefitted from a rider who crashed right in front of Forkner and forced the Kawasaki rider off-line, which allowed Lawreance to take over the position unchallenged. Cooper and Lawrence, the top two riders in the championship, were then separated by 5.4 seconds with six minutes to go.
Cooper responded to Lawrence's charge from second and picked up the pace in the closing stages of the moto to maintain his advantage. He easily finished off a wire-to-wire victory and secured his fifth moto win of the season by 5.3 seconds over Lawrence while Martin followed with a quiet third-place effort, with Forkner fourth and Swoll fifth.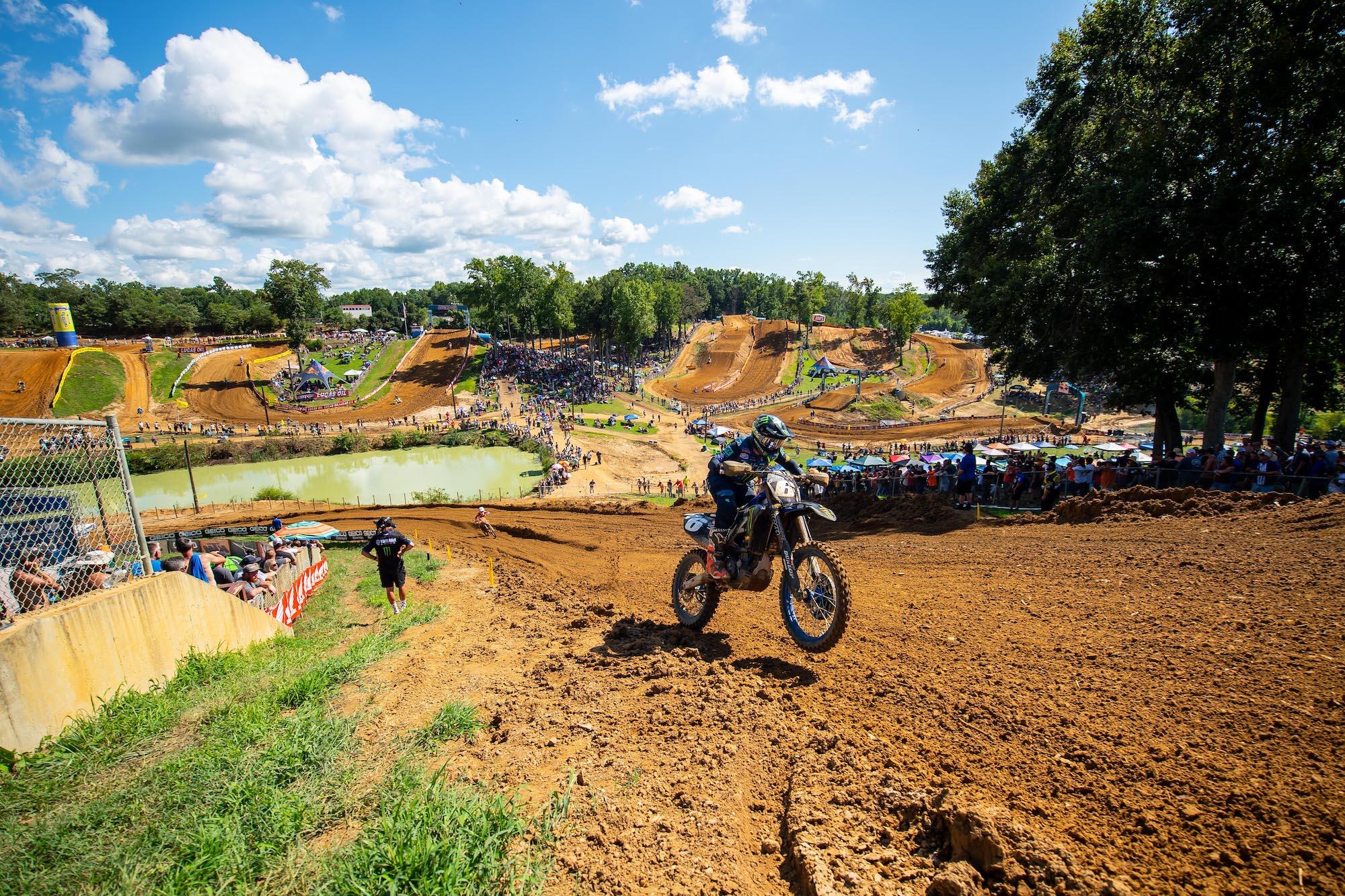 The second moto roared out the gate with Martin leading the way with the MotoSport.com Holeshot, followed by Lawrence in second, as Cooper navigated his way into the top five. With no one in front of them, Martin and Lawrence quickly moved out to a lead of more than four seconds on the rest of the field, with about two seconds separating the top two.
As the lead pair settled in, the attention shifted to Cooper as he looked to move up the running order. He gave chase to Team Honda HRC's Hunter Lawrence from fifth, as both riders looked to track down AEO GASGAS' Ty Masterpool in third. Masterpool then went down, which allowed Lawrence to assume third and Cooper fourth. That was ultimately the last change for position amongst the top five.
Martin was dominant en route to his sixth moto win of the season with a wire-to-wire effort. He took the checkered flag 8.8 seconds ahead of Jett Lawrence in second with Hunter Lawrence third, followed by Cooper in fourth.
By virtue of his second-moto win, Martin surged to the top of the overall classification with 3-1 moto finishes. It signified the 20th victory of his career, which moves him into a tie with Steve Lamson for fourth on the all-time wins list.
"It was a hot one today," said Martin. "I think I'm able to dig deep because as a kid I had to do chores on my parent's track (Spring Creek MX Park), so I think I'm used to the heat. My team had the bike dialed in, it was just on rails out there. I haven't been that comfortable on the bike in a while and it just feels so good when everything is working perfectly like that."
Jett Lawrence just missed out on the overall win by a single point but settled for the runner-up spot (2-2) and his sixth podium finish of the season. Cooper was one additional point behind in third (1-4) to keep his unblemished podium streak this season intact at nine rounds.
Lawrence gained a single point on Cooper in the 250 Class standings, where three points now separate the championship rivals with three rounds remaining. Martin's victory moved him up to third, 60 points out of the lead.
"I'm coming off a sickness a few days ago, so I'm just happy to be here to be honest," said Cooper. "I didn't have the energy to keep up with those guys today, so I'm pretty satisfied to come away with a podium. We only lost a point in the championship and have three rounds to go, so we need to be ready to fight to the finish."
Just three rounds remain in the 2021 Lucas Oil Pro Motocross Championship, which will travel to the motorsports mecca of the greater Indianapolis area next Saturday, August 28, for the 10th round of the season and the Guaranteed Rate Ironman National from Crawfordsville, Indiana's Ironman Raceway. A full slate of live broadcast coverage will kick off with a telecast of the opening motos on MAVTV Motorsports Network, beginning at 10 a.m. PT / 1 p.m. ET, followed by a broadcast of the second motos on NBC Sports Network, beginning at 12 p.m. PT / 3 p.m. ET. Action from Ironman will also stream live all day long on Peacock, beginning with exclusive qualifying coverage at 7 a.m. PT / 10 a.m. ET, followed by four consecutive hours of moto coverage beginning at 10 a.m. PT / 1 p.m. ET.
Budds Creek National
________________________________________________________________________________________________________________________

________________________________________________________________________________________________________________________