La stagione AMA Motocross Pro Motocross 2020 prosegue con la quarta gara sensazionale con tanti colpi di scena, vincitori inaspettati e forse due conferme per la lotta al titolo nel round a REEEEEDBUUUUUD MX che ha ospitato gare epiche eci si rivedrà lunedì prossimo!
Di seguito i link per le classifiche complete e i video completi!
Buona visione!
2020 AMA Motocross Spring Creek National – 450MX Moto 1
https://www.dailymotion.com/video/x7wboyk
2020 AMA Motocross Spring Creek National – 450MX Moto 2
https://www.dailymotion.com/video/x7wbtcc
2020 AMA Motocross Spring Creek National – 250MX Moto 1
https://www.dailymotion.com/video/x7wbolb
2020 AMA Motocross Spring Creek National – 250MX Moto 2
https://www.dailymotion.com/video/x7wbtae
________________________________________________________________________________________________________________________

________________________________________________________________________________________________________________________
SPRING CREEK NATIONAL RESULTS
Cianciarulo Goes Back to Back in the 2020 Lucas Oil Pro Motocross Championship at Spring Creek
Ferrandis Sweeps the 250 Class to Retake the Championship Lead
MILLVILLE, Minn. (September 19, 2020) – The Lucas Oil Pro Motocross Championship, sanctioned by AMA Pro Racing returned to action following a weekend off for its sixth round of the 2020 season from Spring Creek MX Park. With the weather cooler than normal, the annual Thor Spring Creek National treated fans to a perfect afternoon of racing as the temperature hovered around the mid 60's. Monster Energy Kawasaki's Adam Cianciarulo was dominant by taking both moto wins en route to his second career 450 Class win. In the 250 Class, Monster Energy/Star/Yamaha Racing's Dylan Ferrandis swept both motos to capture the eighth overall victory of his career.
As the gate dropped on the opening 450 Class moto, Cianciarulo grabbed his third consecutive Motosport.com holeshot of the season, followed by Red Bull KTM Factory Racing's Marvin Musquin and Team Honda HRC's Chase Sexton. Championship point leader Zach Osborne circulated the opening lap in fifth aboard his Rockstar Energy Husqvarna Factory Racing machine.
The top three riders continued to pace each other out front, separated by just seconds for the first several laps. At the 20-minute mark, Rocky Mountain ATV/MC-WPS-KTM's Blake Baggett started to inch his way up towards the lead group, eventually latching onto and finding his way by Sexton for third. Baggett's push forward didn't stop there as he slowly started chipping away at the gap between Musquin and himself.
With Cianciarulo clicking off lap-after-lap, Musquin continued to search for faster lines behind him, but every time he would close in on the Kawasaki's riders rear fender, Cianciarulo managed to retaliate by reestablishing the gap. With just minutes remaining in the moto, Musquin made a costly mistake that saw him stall his motorcycle and relinquish the second position to Baggett.
Cianciarulo withstood the pressure like a seasoned veteran to take his second premier class moto win by 1.7 seconds over Baggett. Musquin would rebound to finish third, followed by Osborne.
The final 450 Class moto of the afternoon once again saw Cianciarulo grab the Motorpsort.com holeshot to sweep the holeshots for the second consecutive round, followed by Baggett and Osborne. The rookie Sexton started in fourth, but quickly made his way around Osborne for third, just ahead of Musquin in fifth.
Cianciarulo continued his opening moto form by using the clear track to his advantage to open a small lead over the riders behind him. Sexton found his groove as he charged his way up to Baggett, eventually finding his way by for second and closing in on the leader Sexton. As the race wore on, Baggett refused to settle and eventually found his way back around Sexton to retake second.
Out front, Cianciarulo finished the race unchallenged to take his third moto win of the season by 2.7 seconds over Baggett. Sexton held on to finish third.
The 1-1 sweep gave Cianciarulo his second consecutive overall win in the premier class. Baggett's consistency earned him second overall (2-2), while Barcia took the final step of the podium in third (5-4).
"Man, what a dream come true," explained Cianciarulo. "I really wanted to go 1-1 last round at RedBud and had that silly mistake. Today, we got the job done and made it happen. Two consecutive victories in the 450 Class just feels really good. We've got two rounds remaining and I just want to keep the ball rolling."
Despite finishing 10th overall (4-16) on the day and watching his points lead shrink, Osborne kept the red plate with a 15-point advantage over Cianciarulo who overtook Musquin. The Frenchman sits an additional five points behind in third.
The first 250 Class moto saw Rockstar Energy Husqvarna Factory Racing's RJ Hampshire grab the Motosport.com Holeshot, just edging out Monster Energy/Star/Yamaha Racing's Justin Cooper and JGR/Yoshimura/Suzuki Racing's Alex Martin. Just after the completion of the opening lap, Dylan Ferrandis made the pass on Alex Martin to take over third, while championship point leader Jeremy Martin started eighth on his GEICO Honda.
As Hampshire quickly set the pace at the front of the 40-rider field, Ferrandis put his head down in an attempt to track him down and make a bid for the race lead. Behind the lead duo, Cooper and Alex Martin battled bar-to-bar for third, and at the halfway point of the moto, Alex Martin would make the pass stick in front of his home crowd.
With Hampshire riding strong out front, Ferrandis' patience began to wear thin as he searched for a way around. Ferrandis was able to take advantage of a mistake by Hampshire on one of the uphill step up jumps to take control of the lead with just over 10-minutes remaining. As the moto began to wind down, the battle heated up for third between Alex Martin and GEICO Honda's Jett Lawrence and Jeremy Martin. Lawrence was able to muscle his way by Alex Martin to steal third with two minutes remaining.
Ferrandis would hold on to take his third moto win of the season by 4.1 seconds over Hampshire who earned his seventh moto podium of the season. Lawrence fended off the hard charging Martin brothers to complete the podium in third. Alex and Jeremy Martin crossed the finish in fourth and fifth, respectively.
As the field rounded the first turn to start Moto 2 it was Monster Energy/Star/Yamaha Racing's Shane McElrath who emerged with the Motosport.com holeshot ahead of his teammate Cooper and Alex Martin. Before the end of the opening lap, Ferrandis overtook Alex Martin for third, while his championship rival Jeremy Martin started just outside of the top five.
With a clear track ahead, McElrath opened a small lead over his fellow competitors who continued to duke it out for the second and third positions. Jeremy Martin soon joined the battle for the podium as he pushed his way past his brother for fourth. McElrath would surrender the lead by tucking the front end and going down, allowing Cooper to become the new race leader.
While Cooper held the number one spot, Ferrandis started to show a wheel to his teammate in an attempt to break away from Jeremy Martin. As the race closed in on the halfway point of the 30-minute-plus-two-lap moto, Ferrandis stuffed his way by Cooper to take the lead, followed by Jeremy Martin who also struck on Cooper to take second just moments later.
Ferrandis and Jeremy Martin pulled away from the field as they paced one another out front in the hunt for valuable championship points. When the checkered flag waved it was Ferrandis who barely held on to take his fourth moto win of the season by 0.4 seconds over Jeremy Martin. A distant third would go to Cooper, followed by Alex Martin in fourth.
Ferrandis would go 1-1 for the first time since the season opener to take his second overall victory of the season. Jeremy Martin finished runner-up (5-2) on the day, edging out his brother Alex Martin (4-4).
"That was a difficult race in the second moto and the pressure was on," Ferrandis. "It was really good for me to have that battle and come out on top in the second moto. The championship is really close and I think that we were able to put on a good show for everyone today. Jeremy [Martin] and I have a good relationship I think and we congratulated each other and talked about the battle after the race."
The win moved Ferrandis back into the championship lead, which stands at three points over Jeremy Martin. Hampshire maintains third, 55-points adrift of Ferrandis.
"That was the funnest race I've had all year," said Martin. "I know I didn't get the win today, which is always the goal. I don't like to lose, but it felt good to see the number 14 up there and give him a run. We've got two rounds to go and hopefully we can battle each other like we did today."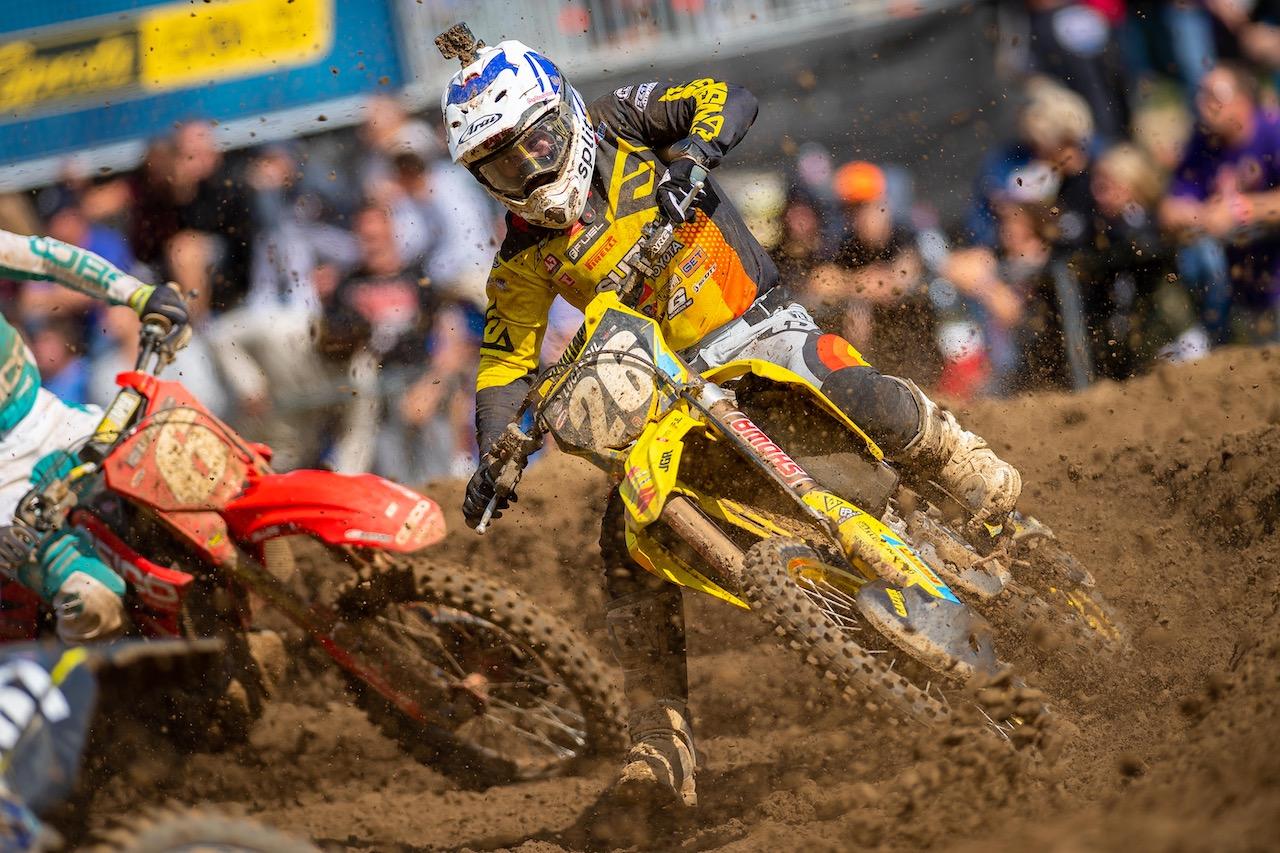 Spring Creek – 450 Class
Spring Creek MX Park – Millville, MN