Ecco la presentazione dei nuovi modelli Honda CRF 2019, con l'esclusivo modello Factory CRF450RWE, trovate il testo in inglese e le immagini per le nuove moto, appena possibile inseriremo le schede e i dettagli degli aggiornamenti.
Buona visione!
Honda amplia la gamma CRF 2019 con due modelli nuovi e tre aggiornati
Rinnovate le CRF250/450R e CRF450RX, tutte nuove le CRF250RX e CRF450L
Honda Motor Europe è lieta di annunciare la gamma offroad 2019, che aggiorna i modelli di punta e introduce due nuovi modelli nella famiglia CRF.
La CRF450R, bandiera tecnologica della gamma, e la versione enduro cross-country CRF450RX, beneficiano di un motore con più coppia e potenza.
La CRF250R, un anno dopo la sua totale riprogettazione, beneficia di un motore con più coppia ai bassi regimi che migliora la velocità in uscita dalle curve lente.
Infine, due nuovi modelli ampliano la famiglia delle fuoristrada Honda, sono la CRF250RX, versione enduro cross-country della 'duemmezzo', e la enduro dual-purpose CRF450L.
CRF450L – Nuovo modello
Sfruttando la CRF450R come base, la nuova CRF450L ha un telaio e una ciclistica resistenti e leggere, per offrire guidabilità ed efficacia su ogni tipo di fondo, mentre il motore offre un'erogazione dolce e sfruttabile fin dai regimi più bassi. È pensata come dual-purpose per gli enduristi amatori ma anche per chi ne vuole fare un uso stradale, tanto da essere dotata di serie di completo equipaggiamento 'street-legal', serbatoio più grande e impianto luci full-LED. La componentistica di alta qualità e il focus sull'affidabilità, hanno portato a 32.000 km il tagliando che prevede la manutenzione straordinaria, creando così una appagante e spensierata esperienza di possesso.
CRF450R 2019
La moto da cross per eccellenza è da oggi ancora più potente, con un motore dotato di +2,5 CV di potenza e +2Nm di coppia su tutto l'arco di erogazione, grazie a un profondo aggiornamento della testata e dei sistemi di aspirazione e scarico. È inoltre presente il Launch Control HRC a 3 livelli di intervento. Le sospensioni hanno un set-up migliorato, i freni presentano una nuova pinza anteriore e il manubrio è un Renthal Fatbar regolabile su 4 posizioni.
CRF450RX 2019
Medesime caratteristiche e aggiornamenti della versione motocross, ma con ruota posteriore da 18 pollici, serbatoio in plastica da 8,5 litri anziché in titanio, set-up sospensioni dedicato e pneumatici enduro.
CRF250R 2019
A un anno dal lancio del modello completamente riprogettato e dotato di motore bialbero, la CRF250R 2019 ha più coppia ai regimi bassi grazie a sostanziali interventi su aspirazione, alimentazione e scarico. Come la 450 è dotata di Launch Control HRC a 3 livelli. Nuove anche pinza freno anteriore e manubrio Renthal Fatbar regolabile su 4 posizioni.
CRF250RX – Nuovo modello
La CRF250RX arriva a colmare l'ultimo tassello nella gamma delle offroad specialistiche di Honda. Ha le medesime caratteristiche e aggiornamenti della versione motocross, ma con ruota posteriore da 18 pollici, serbatoio in plastica da 8,5 litri anziché in titanio, set-up sospensioni dedicato e pneumatici enduro.
Con queste cinque novità Honda sottolinea il suo impegno nello sviluppo continuo delle migliori moto fuoristrada e rafforza la gamma CRF per soddisfare le esigenze di qualunque appassionato di guida offroad.
Tranne che le CRF250/450R motocross, vere e proprie moto pronto-gara, i modelli enduro specialistici CRF250/450RX sono omologati per essere in regola con il Codice della Strada da RedMoto s.r.l, partner di Honda Motor Europe Ltd Italia per la distribuzione della gamma Honda CRF.
HONDA ANNOUNCES 2019 MODELS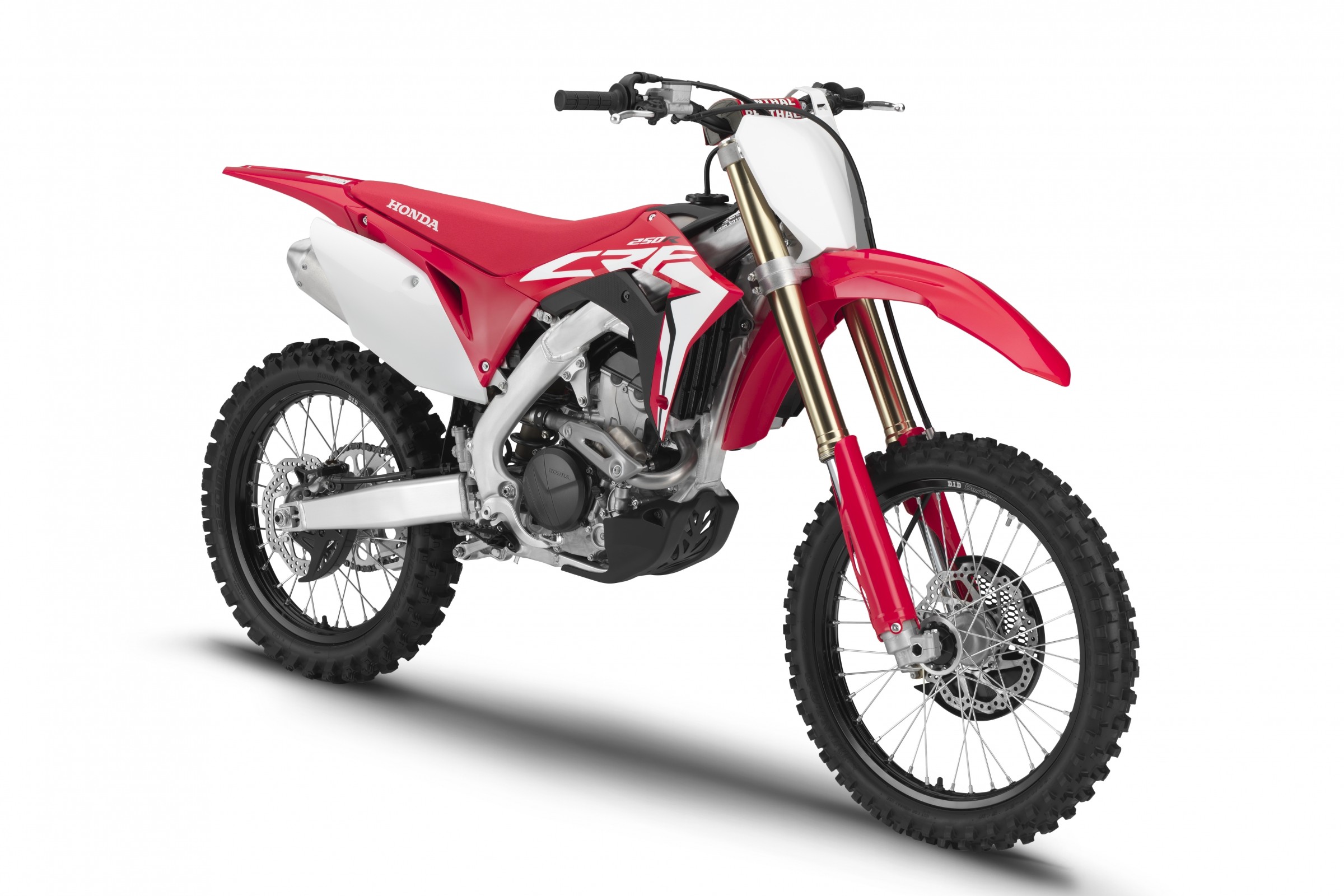 IRVINE, Calif. — During a recent "CRF Collective" unveiling ceremony at Fox Racing headquarters, Honda announced its most far-reaching range of performance off-road models ever, expanding the group by three and significantly improving the four returning models. Leveraging the brand's unparalleled experience in the manufacture of dirt bikes, Honda's performance off-road lineup now includes CRF machines for riding applications including motocross, closed-course off-road, pure off-road, and even dual sport.
All seven models are based on the platforms of Honda's revolutionary motocrossers, the CRF450R and CRF250R. Those two machines return for 2019 but with important updates, as does the closed-course off-road CRF450RX. In addition, Honda is offering a factory-replica version of its full-size motocrosser called the CRF450RWE ("Works Edition"). The trail-ready CRF450X is entirely new for 2019, and it's joined by a road-legal CRF450L that enables customers to connect trails via asphalt. Finally, Honda is also introducing an all-new CRF250RX closed-course off-road machine.
"Honda's history in off-road is something we're very proud of, from the seventies-era Elsinores, through the XRs of the eighties and nineties, to the post-millennial CRF models," Lee Edmunds, American Honda's Manager of Motorcycle Marketing Communications, said. "For 2019, it's exciting to build on that reputation with the most expansive lineup of CRF performance off-road models ever offered, and to reach a wide range of enthusiasts through motorcycles that are tailored to an equally diverse spectrum of riding environments. With this new lineup, there really is a CRF off-road performance machine for everyone."
CRF450RWE
For the 2019 model year, you don't have to be Ken Roczen to enjoy a CRF450R with factory enhancements, as the new CRF450RWE features a number of upgrades based on the bikes in the Team Honda HRC race shop. Rocketing to the top step of the podium through the use of a specially designed cylinder head with hand-polished ports, Yoshimura titanium slip-on muffler, and special ECU settings, this new model offers increased low- and mid-range torque. It also features the same graphics as Roczen's #94 race bike, including a Throttle Jockey factory seat cover. Upgraded black D.I.D LT-X rims are included, along with black triple clamps and a gold RK chain. Titanium nitride-coated fork legs and an updated, titanium nitride-coated shock shaft increase traction and bump absorption.
CRF450R
Already the industry's top-selling motocrosser and the winner of the 2018 Daytona Supercross at the hands of MotoConcept's Justin Brayton, the CRF450R receives a number of important updates for 2019. Better engine performance is achieved through a new combustion-chamber shape, as well as improved over-rev characteristics through a refined oil management system. The frame and swingarm have been revised for optimized rigidity and weight reduction, while the braking system has been updated with a lightweight front brake caliper featuring a large-piston design. As a result of the weight-saving measures, the CRF450R is 1.76 lbs lighter than its predecessor. For added performance and increased comfort, the 2019 model features new ECU settings, HRC launch control, a Renthal Fatbar® handlebar and adjustable handlebar position. Black rims and redesigned fork protectors are also new. This is how you convert the "Absolute Holeshot" into moto wins.
CRF250R
Newly introduced in 2018, the CRF250R has seen the GEICO Honda and TiLube Honda teams earn multiple wins in AMA Supercross and Arenacross competition, respectively, while also achieving success in amateur national races. For 2019, the model is revised with increased low- to mid-range engine performance for improved corner exiting. Inspired by the factory version, the Double Overhead Cam engine features updated cam profiles and intake- and exhaust-port profiles, a 50mm shorter right exhaust pipe, and a 2mm smaller throttle body. Riders can select from three engine modes for ideal performance depending on conditions, while HRC launch control has been adopted for improved race-start performance. A Renthal Fatbar handlebar sits in a four-position-adjustable top clamp, while the braking system has been updated with a lighter, CRF450R-inspired caliper with larger piston for optimum braking performance. Black rims are standard.
________________________________________________________________________________________________________________________

________________________________________________________________________________________________________________________