La quinta prova per il campionato Europeo di Motocross EMX125 è finita, siamo in Inghilterra a Matterley Basin, dove si sono dati battaglia 40 ragazzi per la classe 125, tanti piloti italiani, scoprite chi ha vinto nelle classifiche! Ovviamente sono in aggiornamento, il sabato si corre la prima manche e la domenica la seconda, quindi solo domani sapremo il nome del vincitore assoluto!
2016 European Championship EMX125  

Race 1

Highlights – 
 https://youtu.be/8XkNAM2F3rI
EMX125

RACE 1
.
2016 European Championship

EMX 125

 

Race 2

Highlights
EMX125

 RACE 2
.
CLASSIFICA ASSOLUTA DI GIORNATA

EMX125
CLASSIFICA ASSOLUTA CAMPIONATO

EMX125
.
SEGUITECI QUI!!!
.
GP OF GREAT BRITAIN – –

EMX125
.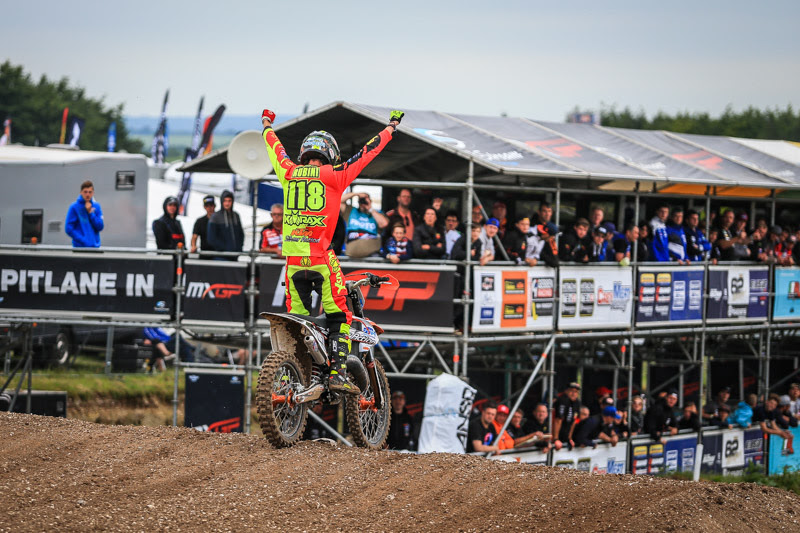 It was a dramatic start to the second race in the EMX125 Presented by FMF Racing  class with the race 1 winner and championship leader, Sahkar KTM's Jago Geerts, getting tangled with another rider on the start straight and going down, while his closest rival, Silver Action KTM's Stephen Rubini was also well outside of the top 15 after a terrible start.
De Carli KTM's Gianluca Facchetti, on the other hand, took an awesome holeshot ahead of the French star Pierre Goupillon and the kid who went pole yesterday, Kevin Horgmo. Goupillon and Facchetti battled for the early lead before Horgmo pulled the pin, passed and gapped both of them. In the matter of 2 laps, Horgmo pulled a 7 second lead.
At the 10-minute mark, the two riders leading the championship, Geerts and Rubini, closed in on the top five. It wasn't long before Rubini was on the hunt for the lead after taking over second place, while Geerts found himself trapped in a battle for fifth with MJC Yamaha's Zachary Pichon. After a game of cat and mouse, it only took a mistake from Pichon where he stabbed the front end into a tight rut, and Geerts was through for fifth.
Despite coming from dead last, Jago Geerts was the fastest rider on track and it wasn't long before he had made light work of Facchetti for fourth, while Rubini was putting in an unbelievable performance of his own and with 2 laps to go managed to put an easy pass on Horgmo for the lead. Also in those final 2 laps, Goupillon made a mistake and handed Geerts third.
At the checkers it was KTM Silver Action's Stephen Rubini who took the win, which combined with his second place in race one was enough for the overall win. Kevin Horgmo finished the race in second ahead of Sahkar KTM's Jago Geerts who managed to stand on the second step of the podium. Meanwhile Pierre Goupillon went 4 – 4 for third overall.